blog
Weekly Announcements -- January 31, 2019
Shabbat Parshat Mishpatim

As a community, we are fortunate to have one another for support through life's blessings and its challenges. While we have sent individual notices regarding the following, know that your care and presence are appreciated for our families in the coming days and weeks:

This week, we mourn the loss of Samuel Brodsky, father of Bari Brodsky; André Dudkiewicz, son-in-law of Marion Bloch and David Cherson; Miriam Klapper; Tanya Rubiec, mother of Michele Potashman.

We also have reason for blessing, as we celebrate the arrival of Baby Lillianfeld, son of shul members Bobby and Lisie Lillianfeld (more details to follow!) and as we also share our joy with community members Rebekah Emanuel and Michael Shafir on the arrival of their new daughter!
_____________________________________________

R. Emily has regular drop-in office hours on Tuesdays 11-1 and Thursdays 3-5 if you need or want to call or stop by for any reason. Of course, you can always call or email to make an appointment during the day or on Tuesday or Thursday evenings, but if having a set time during the day is helpful for you, it's available!
_____________________________________________

Can you leyn Torah? We are looking for you! Click here to sign up for the coming parshiyot
(Mishpatim and beyond) 
​​​​​​​-- and thank you in advance for doing so!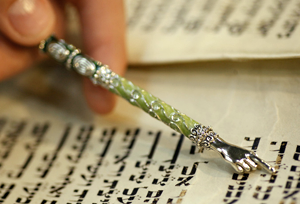 ________________________
Weekly Schedule

Thursday, January 31  •  25 Shevat
7:30pm Egalitarian Ma'ariv - click here to add your name for minyan

Friday, February 1  •  26 Shevat
4:40pm Candle Lighting
5:15pm First Friday Shabbat Service (Egalitarian)
5:15pm Friday Night Partnership Minyan
6:15pm Friday Night Potluck Dinner - click here to sign up to bring food

Shabbat, February 2  •  27 Shevat
Shabbat Mevarchim - Parshat Mishpatim
9:30am Shabbat Morning Services (Orthodox + Egalitarian)
10:45am Kids' Group
12:00pm Kiddush lunch
5:42pm Havdalah

Sunday, February 3  •  28 Shevat
8:30am Orthodox Minyan and Breakfast

Monday, February 4  •  29 Shevat
7:00am Egalitarian Morning Service
7:00pm Hebrew Class with Rabbi Roth

Tuesday, February 5  •  30 Shevat
Rosh Chodesh Adar I
7:00pm Me'ah
7:45pm Talmud Class

Thursday, February 7  •  2 Adar I
7:30pm - Egalitarian Ma'ariv

Friday, February 8  •  3 Adar I
4:49pm Candle Lighting
5:15pm Friday Night Partnership Minyan
Miriam Klapper Memorial Kiddush - March 2

This week, longtime friend, colleague and shul member Miriam Klapper passed away. In her memory, we will be dedicating kiddush on March 2 to be a time to come together and reflect on her life and service to the shul. Please click here if you would like to contribute to sponsoring this kiddush (choose the Kiddush Fund in the dropdown menu and note that it is in memory of Miriam).
___________________________________________________________

Hebrew Class Reboot with R. David Roth

The first week of Rabbi Roth's Hebrew Class Reboot was a great success! With 7 more classes to go, all are welcome to attend, even if you were not able to make it this past Monday night. For more information, click here to email the office, or just come on by to class Monday night at 7 PM!
___________________________________________________________

Film Screening: Cities of the Sky

Stay tuned for an upcoming screening of shul member Joe Sousa's PBS documentary Cities of the Sky! In the spirit of the recent eclipse, the movie screening will give us a chance to compare Jewish and Native American narratives about time and space. Cities of the Sky explores the creation of some of the ancient world's largest and most splendid cities. Were people across Native America inspired by celestial phenomenon to build their communities? Answers are revealed in American urban centers that bloomed from the Mexican jungle, a massive multi-cultural city in Central Mexico that is among the largest urban centers in history, and the capital of South America's greatest empire.
___________________________________________________________

Jewish Heritage Night at Fenway - June 13

Take me out to the ball game! We are excited to organize a group from shul to head over Fenway on June 13 for Jewish Heritage Night with the Red Sox. Tickets cost $36 - click here to sign up now!
___________________________________________________________

Purim 5779

Purim is coming! If you are interested in leyning, please click here to contact our leyning coordinator.
If you are interested in helping with the spiel, please email  Brian Eisenstein .
___________________________________________________________

Women's Book Group

Please join us for the next Tremont Street Women's Book Group - Wednesday, March 6th at 7:00 pm. We will be reading Shakespeare's Kitchen: Stories by Lore Segal. For meeting location and any other questions - please contact Maura Gould . Thank you!
___________________________________________________________

from Rachel Jacobson: 

Cambridge Niddah Group: We invite you to join us for seudah shlishit, learning, and discussion about niddah ideas and practices. In this monthly gathering we dive deep into a wide range of rabbinic, historical, and contemporary sources on niddah and hold space for folks to share their personal experiences and questions. This group is open to non-male identifying people of any relationship status or sexuality. Our next gathering will be February 16. If you're interested in joining us in February or sometime in the future, email Rachel Jacobson. Thank you to Hadar Institute for supporting this group.
__________________________________________________________
{{shulcloud_footer_left}}
{{shulcloud_footer_right}}
Tue, March 19 2019
12 Adar II 5779
Today's Calendar
Me'ah

: 7:00p
Talmud Class

: 7:45p
---
Tomorrow's Calendar
---
Friday Night
Candle Lighting

: 6:41p
Friday Night Partnership Minyan

: 7:00p
Shabbat Day
Hashkama Minyan (Orth; pending signup)

: 7:00a
Minyan Tehillah (Partnership)

: 9:15a
Shabbat Services (Egalitarian)

: 9:30a
Kids Group

: 10:45a
Kiddush lunch

: 12:00p
Adam Gould bar mitzvah service
: 4:00p
Havdalah

: 7:42p
Upcoming Programs & Events
---
Taanit Esther & Erev Purim
Zmanim -Jewish Prayer Times
Alot Hashachar
5:26a
Earliest Tallit
5:59a
Netz (Sunrise)
6:50a
Latest Shema
9:51a
Zman Tefillah
10:52a
Chatzot (Midday)
12:53p
Mincha Gedola
1:23p
Mincha Ketana
4:24p
Plag HaMincha
5:40p
Shkiah (Sunset)
6:55p
Tzeit Hakochavim
7:37p
More >>
Tue, March 19 2019 12 Adar II 5779