blog
Weekly Announcements -- January 24, 2019
Shabbat Parshat Yitro

Thank you to Brian Eisenstein, R. David Roth, R. David Curiel and Joe Sousa for leading a festive evening of Tu BiShvat events, with a blood moon eclipse to top it all off! Great fun was had by all as nearly 100 people took part in the celebration. Thank you also to brewmaster David Engel for creating an eclipse-themed ale for participants to enjoy as a nightcap!

Also, R Emily has regular drop-in office hours on Tuesdays 11-1 and Thursdays 3-5, if you need or want to call or stop by for any reason. Of course, you can always call or email to make an appointment during the day or on Tuesday or Thursday evenings, but if having a set time during the day is helpful for you, it's available!

Can you leyn Torah? We are looking for you! Click here to sign up for the coming parshiyot
(Yitro and beyond) 
​​​​​​​-- and thank you in advance for doing so!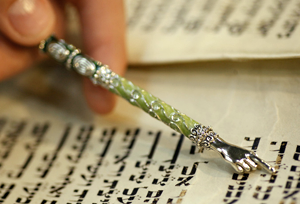 ________________________

Weekly Schedule

Thursday, January 24  •  18 Shevat
7:30pm Egalitarian Ma'ariv

Friday, January 25  •  19 Shevat
4:31pm Candle Lighting
5:15pm Friday Night Partnership Minyan

Shabbat, January 26  •  20 Shevat
Parshat Yitro
7:00am Hashkama Minyan (Orthodox)
9:15am Minyan Tehillah (Partnership)
9:30am Shabbat Services (Egalitarian)
10:45am Kids Group
12:00pm Kiddush lunch
5:33pm Havdalah

Sunday, January 27  •  21 Shevat
8:30am Orthodox Minyan and Breakfast

Monday, January 28  •  22 Shevat
7:00am Egalitarian Morning Service
7:00pm Hebrew Class with Rabbi Roth

Tuesday, January 29  •  23 Shevat
5:00pm Faith Kitchen
7:00pm Me'ah
7:45pm Talmud Class

Thursday, January 31  •  25 Shevat
7:30pm Egalitarian Ma'ariv

Friday, February 1  •  26 Shevat
4:40pm Candle Lighting
5:15pm First Friday Shabbat Service (Egalitarian)
5:15pm Friday Night Partnership Minyan
6:15pm Friday Night Potluck Dinner
Mayyim Chayyim's Beyond the Huppah:

Engaged? Recently married? You'll want to know about an upcoming program for engaged and recently married couples called Beyond the Huppah. It's a five-session seminar -- taught by Rabbi Miriam-Simma Walfish -- and each session focuses on a particular topic such as Jewish ritual, decision-making, sexuality, money, etc. The course is designed to strengthen your partnership and explore different ways of creating a Jewish home.
 
The program will run Thursday evenings at Mayyim Hayyim, starting January 31st. If you would like to learn more and/or register, you can find it here. You may also reach out to MH Associate Director of Education, Leeza Negelev.
___________________________________________________________

from Rachel Jacobson: 

Cambridge Niddah Group: We invite you to join us for seudah shlishit, learning, and discussion about niddah ideas and practices. In this monthly gathering we dive deep into a wide range of rabbinic, historical, and contemporary sources on niddah and hold space for folks to share their personal experiences and questions. This group is open to non-male identifying people of any relationship status or sexuality. Our next gathering will be February 16. If you're interested in joining us in February or sometime in the future, email Rachel Jacobson. Thank you to Hadar Institute for supporting this group.
__________________________________________________________
{{shulcloud_footer_left}}
{{shulcloud_footer_right}}
Tue, March 19 2019
12 Adar II 5779
Today's Calendar
Me'ah

: 7:00p
Talmud Class

: 7:45p
---
Tomorrow's Calendar
---
Friday Night
Candle Lighting

: 6:41p
Friday Night Partnership Minyan

: 7:00p
Shabbat Day
Hashkama Minyan (Orth; pending signup)

: 7:00a
Minyan Tehillah (Partnership)

: 9:15a
Shabbat Services (Egalitarian)

: 9:30a
Kids Group

: 10:45a
Kiddush lunch

: 12:00p
Adam Gould bar mitzvah service
: 4:00p
Havdalah

: 7:42p
Upcoming Programs & Events
---
Taanit Esther & Erev Purim
Zmanim -Jewish Prayer Times
Alot Hashachar
5:26a
Earliest Tallit
5:59a
Netz (Sunrise)
6:50a
Latest Shema
9:51a
Zman Tefillah
10:52a
Chatzot (Midday)
12:53p
Mincha Gedola
1:23p
Mincha Ketana
4:24p
Plag HaMincha
5:40p
Shkiah (Sunset)
6:55p
Tzeit Hakochavim
7:37p
More >>
Tue, March 19 2019 12 Adar II 5779